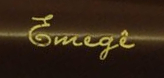 No pens were ever produced in Portugal, as some say.
Monteiro Guimarães would mark the pens (100, 100N and the first Magnum model) with "Emege" in cursive in the cap or sleeve. But they did not put the markings on the first Magnum model, which has EMEGE in the cap top in block letters (In German: "Blockschrift").
Those markings were made at the Pelikan factory as indicated in that delivery document referred above. That was probably because it wasn't easy to make the imprint around the cap top, because of the need for even spacings between the letters.

In Portuguese MG, the initials of Monteiro Guimarães are phonetically:
M ----> EME
G ----> GE

Therefore the EMEGE imprint.

There is a theory that says that Monteiro Guimarães engraved the pens so that they could know the pen had been sold by them and therefore give full warranty only to those. This is very odd to me as they were the only importer and official Representative for Portugal, Spain, Brasil, and Portuguese African countries (then Angola, Moçambique, Guiné Bissau, Cape Verde and São tomé e Principe), so all the pens found in Portugal would have been imported by them. Monteiro Guimarães had then re-sellers all across the country and in those foreign markets they covered.
This is why I don't see the need to mark the pens only because of warranty issues. It sound to me more that they wanted their brand name also on the pens for marketing reasons.